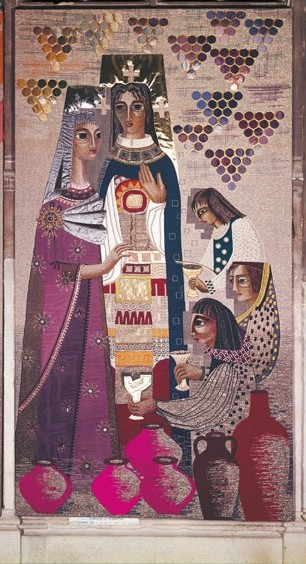 The miracle at Cana
© The Beryl Dean Archive Reproduced with permission of Dean and Canons of Windsor
A commission of five panels for the Rutland Chantry, St. George's Chapel, Windsor Castle depicting the Virgin Mary and the early life of Christ
Between 1969 and 1974 Beryl Dean made 5 panels to hang in the Rutland Chantry, one of the side chapels within St George's Chapel, Windsor Castle.
The five panels depict the annunciation, the visitation, the adoration of the magi, the temptation in the wilderness and the miracle at Cana.
On a background of especially woven linen and lurex a variety of techniques such as applique, drawn thread and pulled work have been used.
The work was commissioned by the Friends of St George's and the Descendants of the Knights of the Garter to mark the Chapel's quincentenary in 1975.
Designed by: Beryl Dean
Made by: Beryl Dean.
Owned by: College of St. George, Windsor Castle
More info: St. George's Chapel, Windsor Castle - Windsor Panels