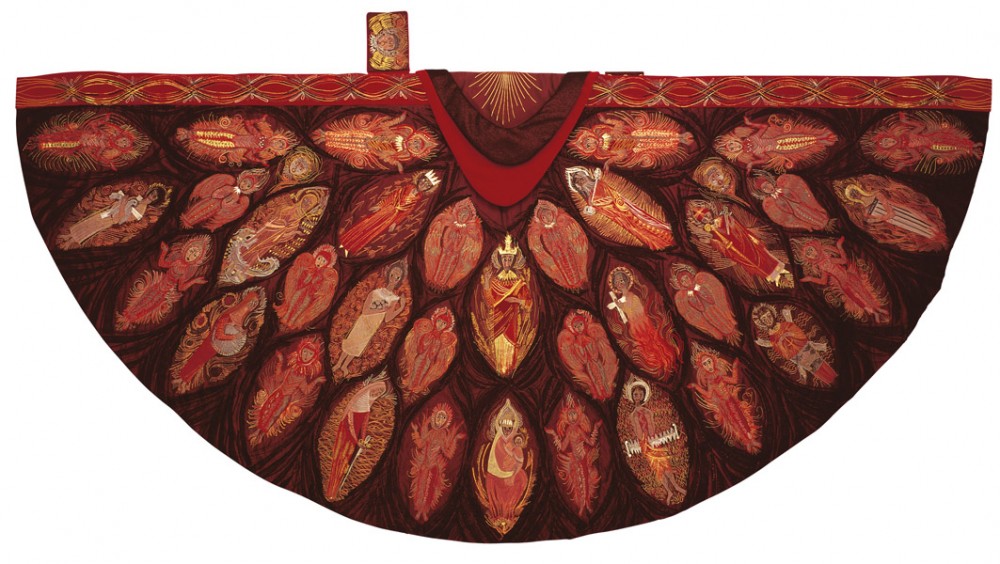 Hammersmith Cope
© The Beryl Dean Archive. Reproduced by permission of the Dean and Chapter of St Paul's Cathedral
Silk with appliqued medallions of martyred saints and angels.
The cope and mitre along with a set of five copes were given by Beryl Dean and her forty students at the Hammersmith College of Art to St Paul's Cathedral.
The cope and mitre are designated by the Cathedral Fabric Advisory Committee on account of the excellence of the design being of national and international importance, the craftsmanship involved in the creation of the vestments, the financial value of the gold and silver threads
Dimensions:  Width  313  cm,  Height  150  cm, Circumference  489  cm
Large format Postcard of the cope is in the set of 10 Cards available at the Website 'shop'.
Designed by: Susan Riley
Made by: Beryl Dean and her students.
Owned by: St Paul's Cathedral
Tagged in: St. Paul's Cathedral

More info: St Paul's Collection of Objects [see #s 4396 & 8266-8270]