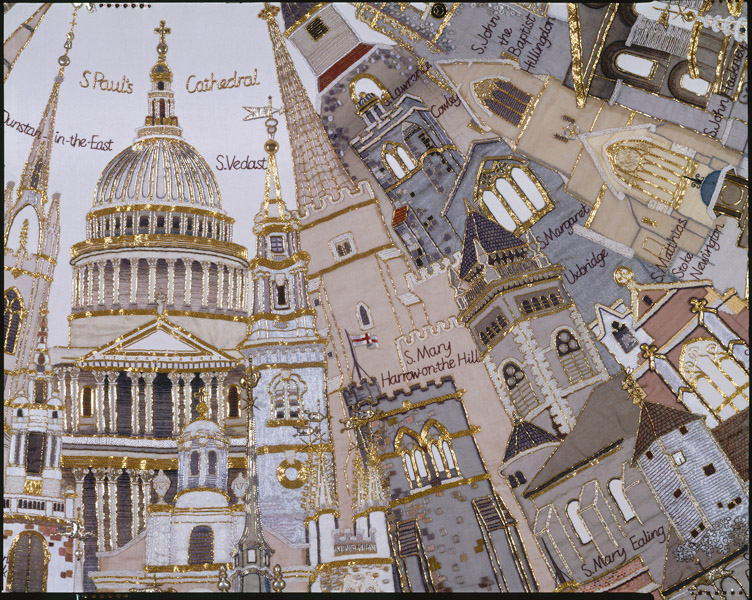 Jubilee Cope, Detail : St' Paul's Cathedral
© The Beryl Dean Archive. Reproduced with permission of the Dean and Chapter of St. Paul's Cathedral
9 April 2014
The Beryl Dean website went live on Monday 7th April following the prestigious Beryl Dean Education Award event held at St. Paul's Cathedral (see previous news item). The website, initiated by Beryl Dean's godson David Dawson Taylor and completed by Jake Farr and Tamsin Gale, will ultimately contain much of the Beryl Dean Archive.
Holder of the Archive, The Beryl Dean Education Trust, aims to create a learning space where teachers and students of embroidery can connect with important historic approaches to design and technique. Beryl was skilled at taking the essence of excellence in past traditions and reinterpreting it in a modern idiom. It gave her work a richness that enabled it to stand the test of time. Her learning, creativity and perceptions have much to offer to contemporary embroiderers in their efforts to create work of lasting value and significance.
Currently on the site you will find a timeline for significant events in Beryl's life and work, the beginnings of an image catalogue of her works and information on Beryl's books. The long list of exhibitions featuring her work is underway. Future plans include offering ideas and techniques from the books, possibly by videolink/podcast. The Trust is very keen to hear from anyone who has memories of Beryl or her classes to add to and enliven the Archive. Please do also contact us on mail@beryldean.org.uk to share ideas for improving the content of the site.